Talking Points Booklet: Further Infringing on the Right to Carry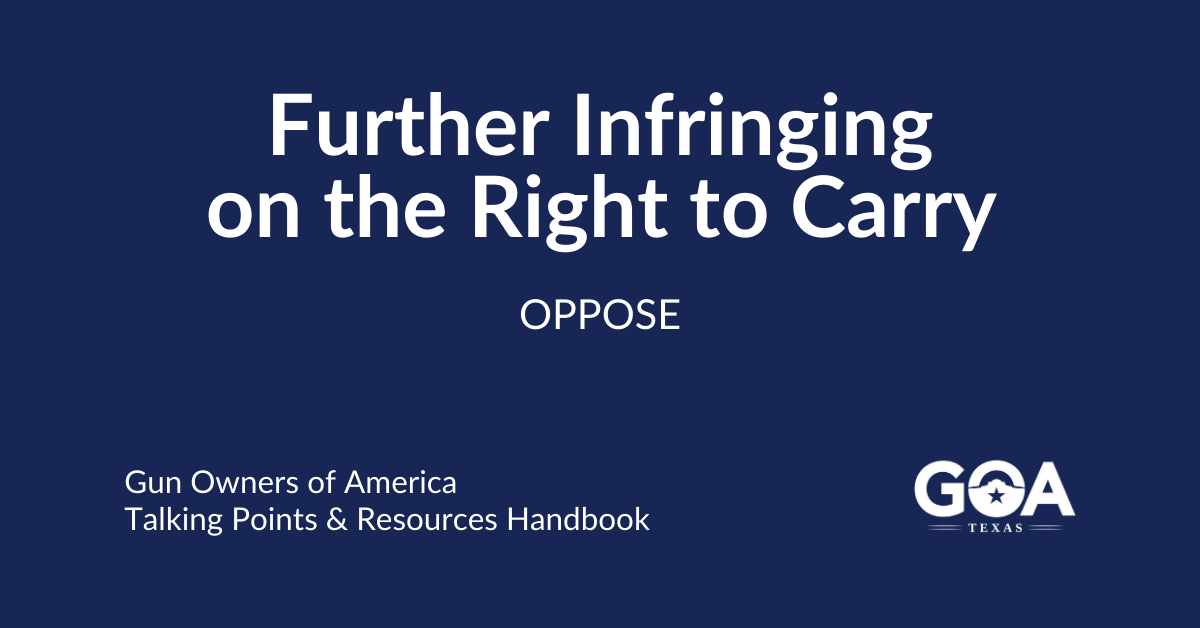 Further Infringing on the Right to Carry
Adding "Gun-Free" Zones
See "Ending 'Gun-Free' Zones" section, above, for current law and points on how to talk about this issue.
OPPOSE: HB 127 by Rep. Ortega & HB 213 by Rep. Bernal would prohibit open carry of long guns except on your property or property under your control, in or en route to your vehicle or boat. HB 127 allows carry on another's property with consent; HB 213 gives only a defense to prosecution.
OPPOSE: HB 201 by Rep. Meza & HB 1769 by Rep. Anchia would effectively repeal campus carry by allowing public universities and colleges to fully opt-out of concealed carry on campuses.
OPPOSE: HB 791 by Rep. Goodwin & HB 311 by Sen. Eckhardt would ban display of any firearm at a public demonstration. A "demonstration" would include one person making a speech, marching, or otherwise expressing his or her views in a way that could attract onlookers.
OPPOSE: HB 1768 by Rep. Anchia would ban carry on the grounds of schools, colleges and small amusement parks.
OPPOSE: HB 1857 by Rep. Anchia would ban carry in any indoor or outdoor arena, stadium, golf course, automobile racetrack, amphitheater, auditorium, theater, museum, zoo, botanical garden, civic center, or convention center.
Increasing Carry Regulations
OPPOSE: HB 236 by Rep. Bernal would require 30.06 and 30.07 signs to be 8.5″ x 11″ or smaller, repealing the requirement of 1" lettering.
OPPOSE: HB 603 by Rep. Meza would keep Texas from honoring any other state's carry license.
OPPOSE: HB 1772 by Rep. Anchia would ban carry in private businesses who post a "gunbuster" sign with a short sentence (instead of the full 30.06 / 30.07 language and large sign currently required).
Repealing Preemption
Our statewide preemption laws prohibit state and local entities from regulating firearm possession, transfer, transportation, or carry more than state law does. (For details, see Local Government Code Sections 229 & 336.)
OPPOSE: HB 238 by Rep. Meza would repeal statewide preemption laws.
OPPOSE: HB 1770 by Rep. Anchia would allow 10% of voters in municipalities with a population over 750,000 to force an election for voters to decide whether to ban open carry of handguns.
OPPOSE: HB 1776 by Rep. Anchia would allow governmental entities to ban carry in government-owned buildings while the buildings are leased or occupied by others.
Recent GOA News & Updates