GOA Texas Talking Points Booklet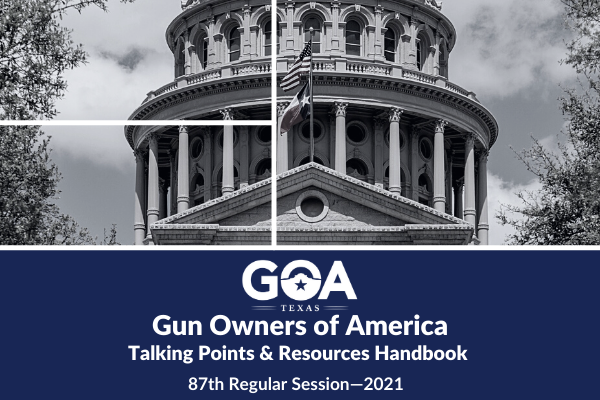 This booklet is designed to help you craft informed, relevant, and important testimony for all of our gun rights hearings this session.
Inside this year's talking point booklet are three sections that will help you not only be a pro at testifying but will make sure you use your limited time and resources efficiently while making the biggest impact.
This handbook was designed for you. 
SECTION ONE: Our Right to Bear Arms
Constitutional Carry
Ending "Gun-Free" Zones
Use-of-Force Protections
Reducing Carry Regulations
Further Infringing on the Right to Carry
SECTION TWO: Our Right to Keep Arms
Protection Against Federal Infringements
Repeal of Emergency Powers
Suppressor Freedom
Curtailing "No-Knock" Raids
"Red Flag" Gun Confiscation
Universal Background Checks
Gun Show Restrictions
Storage & Access Regulations
Firearm & Magazine Bans
Restrictions on Transfer & Possession
SECTION THREE: How YOU can Protect Your Rights
Gun Rights Action Items
Learn the Secrets of the Texas Legislature
Testimony & Committee Information
Quick Links & Contact Information
Recent GOA News & Updates