Talking Points Booklet: Curtailing "No-Knock" Raids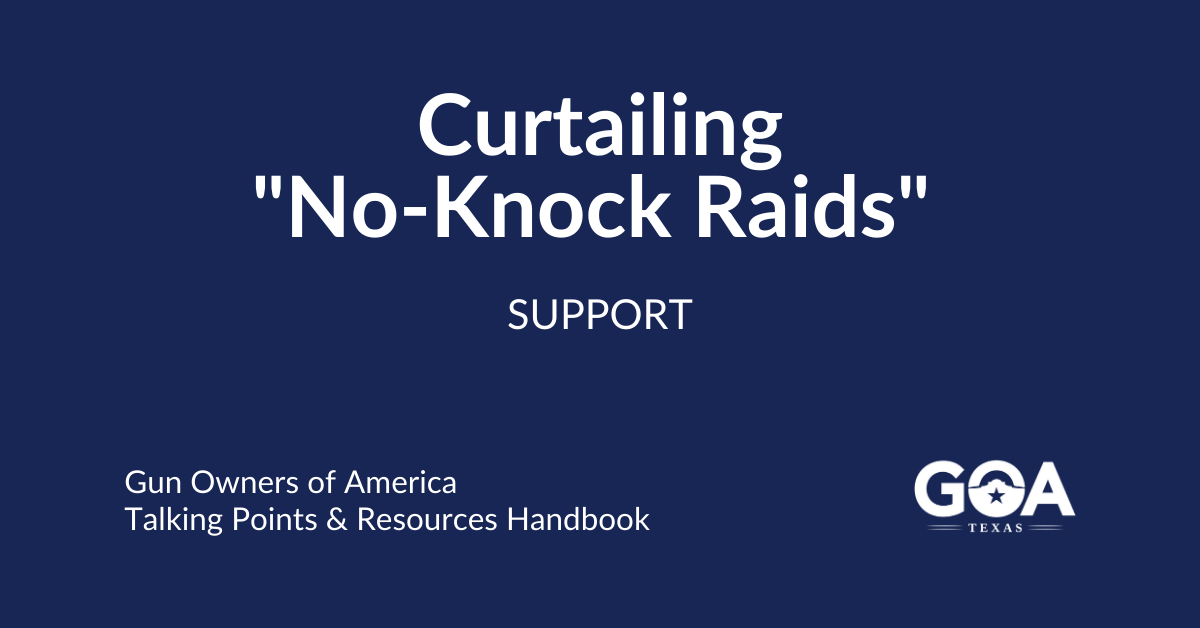 Curtailing "No-Knock" Raids
General Discussion
4th Amendment: Knock & Announce
It is a foundational Fourth Amendment principle that, when executing a warrant, the police must knock and announce their presence and purpose, and allow a homeowner the time to let them in. This principle is designed to preserve a person's life (so he is not accidentally shot), his property (his front door), and his dignity (if, for example, he is in the shower). Only if the police have "exigent circumstances" has the Supreme Court permitted entry without knocking.
GOA history: Quinn v. Texas
Long-time gun rights activists may remember GOA and Gun Owners Foundation's amicus brief in Quinn v. Texas, where we challenged police for justifying their use of a "no-knock" home invasion simply on the basis that the occupant owned a firearm.
In Quinn v. Texas, John Quinn was asleep in his bed when Texas police broke down his door in the middle of the night, and shot him when he reached for a weapon, thinking his home was being invaded. The police were there to serve a search warrant for his son, Brian, who they knew was not at home at the time, but whom they suspected of dealing drugs.
The only justification for the "no-knock" raid that police gave was that John Quinn owned a firearm. The police claimed that firearms ownership was enough to present a danger to law enforcement, even though they knew John Quinn had a concealed carry permit — meaning the state of Texas had pronounced him to be a safe, law-abiding citizen.
Our amicus brief pointed out that the police dispensed with the Fourth Amendment and executed a no-knock raid for the sole reason that Quinn had chosen to exercise his Second Amendment rights to keep a firearm in his home for self-defense.
View GOA's amicus brief from Quinn v. Texas at bit.ly/quinntx
GOA's Position
"No-knock" warrants were promised to be a rare exception to the common law requirement that police serving a warrant "knock and announce" themselves.  However, over the years, the exception has swallowed the rule. Texans should not have to live in constant apprehension that the police may decide to batter down their door in the middle of the night to serve warrants for relatively minor offenses, or simply because the police got the wrong address. We will continue to fight against the normalization and regular use of 'no-knock' raids for nonviolent offenses that can jeopardize innocent life.
How We Talk About This
"No-knock" warrants have been known to needlessly put both law enforcement and honest citizens in harm's way.
Our society is one where no-knock raids — supposedly the exception — have become the rule, due to aggressive, militaristic policing and permissive courts. Often, innocent people and even family pets defending their homes are caught up in the crossfire when police make mistakes.
Having a rule where the police can break down a person's front door simply because he may keep a firearm inside is simply intolerable.
The fact that police have probable cause to obtain a search warrant does not mean a person's 4thAmendment rights against unreasonable searches and seizures are void.
Bills
SUPPORT: HB 492 by Rep. Wu, HB 1272 by Rep. Crockett, and SB 175 by Sen. Miles would prohibit a magistrate from issuing a warrant authorizing no-knock entry. This would require officers to give notice of the officer's authority or purpose before entering.
SUPPORT: HB 579 by Rep. Dutton would establish uniform procedures for SWAT teams, limit their use to imminent threats, and specify that "the existence of a legally owned firearm in the home of an individual does not in itself constitute evidence of an imminent threat," thus limiting the use of SWAT in raids on gun owners.
See our updated bill list at txgoa.us/87r.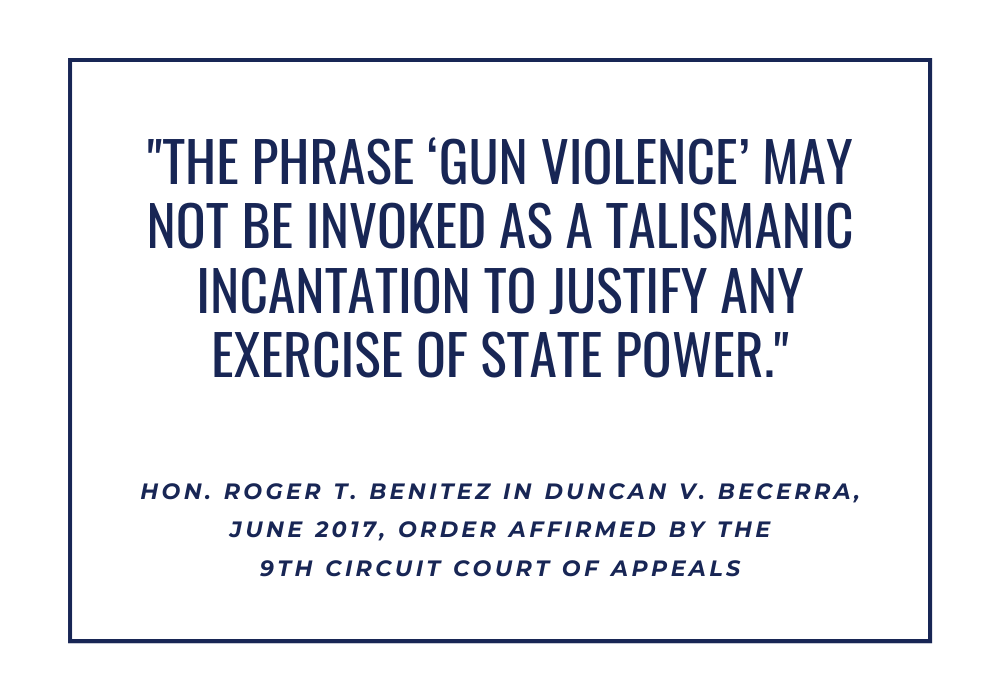 Recent GOA News & Updates