GOA TEXAS BULLET 3-8-2021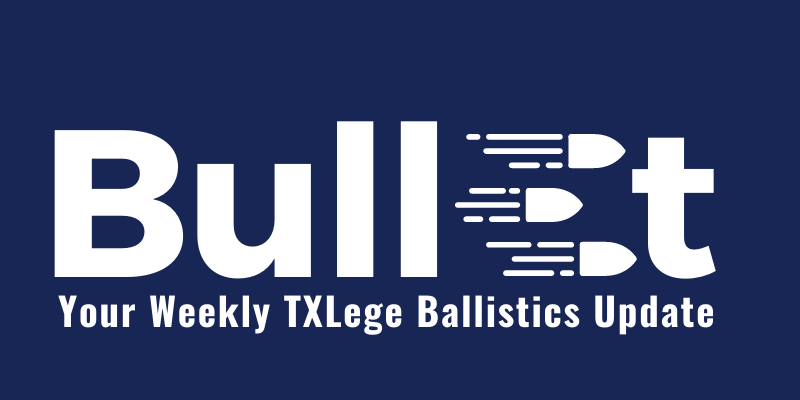 Let's talk about emergency powers: 
Have you heard about HB 3? It would repeal the Governor's emergency powers to control guns.
But it would also add many other powers that some of our members find concerning.
Good news: we don't have to support HB 3 to protect our gun rights. Instead, legislators can support HB 1500 & SB 18, which repeal the governor's emergency powers to control guns without adding any additional issues.
HB 3 is up for a hearing this Thursday at 8 AM. If you wish to give input, you can testify in person or submit a statement online. See info here.  
Constitutional Carry filed—AGAIN! (plus more newly filed bills) 
Rep. Cole Hefner filed a very strong Constitutional Carry bill, HB 2900, last week – bringing the total to five Constitutional Carry bills filed this session! 
The following legislators have publicly put their name on a Constitutional Carry bill. Tell them thank you:

Authors: Representatives Biedermann, Hefner, Schaefer, White; Senators Hall, Springer
Joint Authors: Representative White; Senator Buckingham
Co-authors: Representatives Cain, Cason, Lozano, Slaton, Stephenson, Tinderholt, Toth; Senator Kolkhorst

If your legislators are not listed above, use our easy form TODAY to ask them to co-author Constitutional Carry. Click here. 
See our one-pagers:  
GOA Priority Legislation: Here are our priority bills to stand strong for gun rights and end current infringement in Texas
Constitutional Carry: end the license requirement so that if you can legally own a handgun, you can carry it, no license required.
Repeal Emergency Powers: don't make us rely on a governor's goodwill to protect our ability to buy, carry, and use our guns during an emergency
GOA Texas Days of Action: WE NEED YOU 
GOA Texas activists are meeting at the Capitol every Thursday at 10:15 AM. 
Join us! Text Felisha your T-shirt size and let her know you'll be there – 832-622-8781.
We'll put you with a team to take our one-pagers to the legislative offices! You may also be able to testify at a committee hearing.
No COVID test is required to join us (although one may be required for certain activities inside the Capitol).
Next Step: Be ready for committee hearings 
Most committees are hearing bills this week.
No gun bills are scheduled yet, but we expect them to be scheduled soon. 
We'll have 5 days' notice. We'll give you an immediate text alert and a follow-up email.
Hearings will most likely be at these days and times (although we don't know yet which week):

Senate State Affairs: Mondays at 9 AM (most gun bills in the Senate)
House Criminal Jurisprudence: Mondays at 2 PM or later (gun bills that don't fit the categories below)
House State Affairs: Thursdays at 8 AM (2A Sanctuary, Emergency Powers, suppressor freedom)
House Homeland Security & Public Safety: Thursdays at either 9 AM or in the afternoon: Constitutional Carry, LTC issues, "red flag" laws, background checks
Recent GOA News & Updates