GOA Texas Bullet: 11-24-2020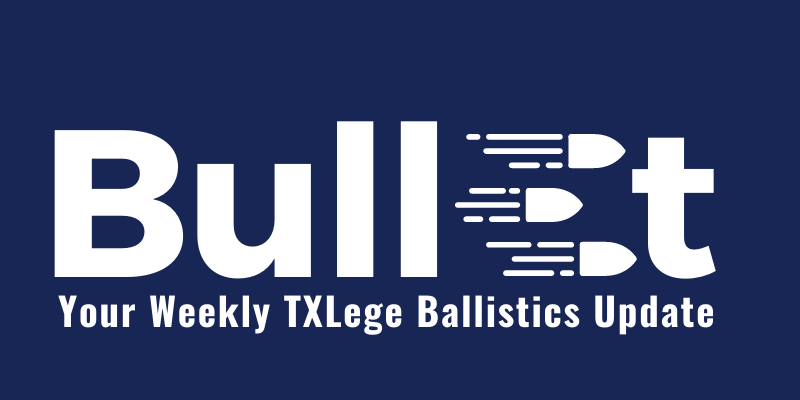 Bill Filing 
Texas legislators are continuing to pre-file bills, although the pace has slowed down dramatically from the first few days of pre-filing.
On the anti-gun side, HB 603 by Meza would keep Texas from honoring any other state's carry license.
On the pro-gun side, HB 530 by Patterson would allow election judges who have an LTC to carry handguns in polling places. This lines up with Attorney General Paxton's opinion (KP-0212).
Gun owners may also be interested in HB 579 by Rep. Harold Dutton. This bill establishes uniform procedures for SWAT teams, limits their use to imminent threats, and specifies that "the existence of a legally owned firearm in the home of an individual does not in itself constitute evidence of an imminent threat."
See our report on gun bills filed in the first week of pre-filing. See a full list of prefiled House Bills and Senate Bills.
Speaker of the House
On the first day of session (Tuesday, January 12), the 150 members of the Texas House of Representatives will vote on who becomes the next Speaker of the House.
The Speaker appoints committee chairs and committee members and assigns bills to committees.
Rep. Dade Phelan has announced that over half of the legislators have committed to vote for him for Speaker, which would give him the majority vote he needs to win.
Many have expressed serious concerns that Phelan would block priorities such as Constitutional Carry from coming to the floor.
On a positive note, in 2019, Phelan authored "Constitutional Carry for Disasters" and, as State Affairs Committee Chair, moved forward our priority Suppressor Freedom bill with bipartisan support. In 2017, he was a joint author on a permitless carry bill, HB 1911.
However, Phelan has declined to express support for his party's priorities, which include Constitutional Carry. Also, he is a business partner of current Speaker Dennis Bonnen, who blocked Constitutional Carry, and his list of supporters includes anti-gun representatives.
TAKE ACTION
Call Rep. Dade Phelan's Capitol office (512-463-0706). Ask him to commit to bringing his party's priority of Constitutional Carry to the floor for a vote.
Recent GOA News & Updates