GOA Backs Dawn Buckingham for Land Commissioner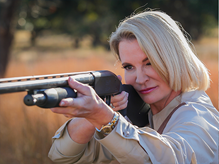 Dawn Buckingham is the Gun Owners' Choice for Land Commissioner
Dawn Buckingham has the "Come and Take It" Spirit
Dear friend,
Senator Dawn Buckingham has been one of the few people GOA could count on to stand up for our right to keep and bear arms in the Texas Senate.
Now GOA is proud to stand with her as she seeks the office of Texas Land Commissioner. The Land Commissioner not only controls the Alamo, but also manages Texas oil and gas interests.
Although the Land Commissioner's main role is not to create policy, it is still critical to have statewide officials in every area — especially in regulatory areas — who respect our gun rights.
And Dawn is the clear gun owners' choice. Her record on the Second Amendment as a State Senator speaks for itself.
She was one of the most outspoken supporters of Constitutional Carry, supporting it every year it was filed. In fact, she worked closely with GOA when weak Republicans were seeking to kill Constitutional Carry legislation.
Dawn truly epitomizes the brave defenders of the Alamo and their "Come and Take It" spirit.
But she can't continue to stand for our rights without our help. Please consider donating and volunteering with her campaign. But most importantly, be sure to cast your vote for Dawn Buckingham!
In liberty,
Tim Macy
Chairman
Gun Owners of America
Paid for by Gun Owners of America, Inc. Not authorized by any candidate or candidate's committee.
Recent GOA News & Updates