GOA TEXAS BULLET 3-29-2021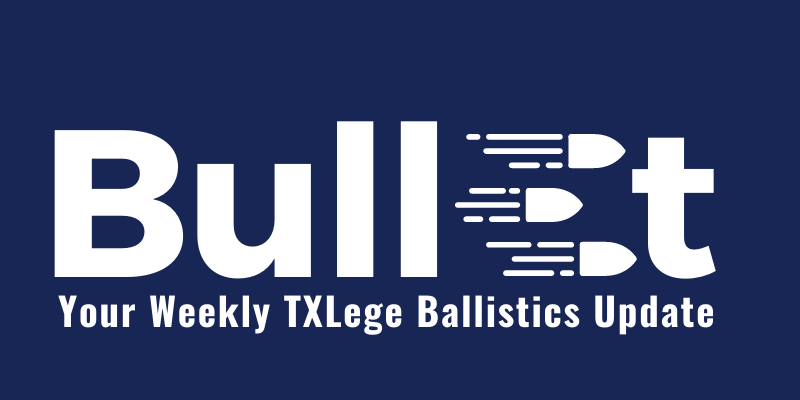 This Thursday: Gun rights in House State Affairs Committee 
This Thursday, the House State Affairs Committee will hear bills that would establish Texas as a 2nd Amendment Sanctuary, repeal emergency powers relating to gun rights, and keep taxpayer dollars from supporting companies that discriminate against firearms-related businesses.
Submit written comments on these bills now. See below for bill numbers and talking points. Comment forms stay open until the hearing ends on Thursday afternoon or evening.
See the hearing notice – House State Affairs Committee, 8 am Thursday 4/1, JHR Room 140 (separate building north of the Capitol on the Capitol complex – see map)
HB 1500: Repeal of Emergency Powers – SUPPORT  
Currently, during a declared disaster or state of emergency, the Governor of Texas may control the sale, transportation, and use of firearms and ammunition.
We're thankful that Governor Abbott didn't abuse this power during the pandemic response. However, we shouldn't have to trust the good graces of any governor to protect our rights.
HB 1500 by Hefner would repeal a governor's ability to regulate the way we buy, sell, and use guns and ammo during a disaster or emergency declaration.
See our handout | Read the bill | Submit comments online  
HB 2558: Keep Tax Dollars Away from Anti-Gun Companies – SUPPORT 
Prohibits government entities from contracting with a company to provide goods and services unless the contract includes affirmations that the company does not and will not discriminate against gun-related companies and ranges.

Applies to contracts of over $100,000 that are made with companies with at least 10 full-time employees and that are paid wholly or partly from taxpayer funds.

This is a response to companies that regularly discriminate against gun owners or gun-related businesses.
Read the bill | Submit comments online 
HB 2622: Second Amendment Sanctuary State – SUPPORT 
Declares that Texas personnel and resources cannot help enforce Federal laws or regulations related to firearms, ammunition, and accessories if those laws don't exist in Texas. We support this.
Local government entities that violate this would be cut off from state grant funds. We support this.
This bill would not apply to "a contract or agreement to provide assistance in the enforcement of a federal statute, order, rule, or regulation in effect on January 19, 2021." We would prefer for this clause to be narrower.
See more information | Read the bill | Submit comments online 
Constitutional Carry Update 
Constitutional Carry bills received a historic hearing last Thursday. GOA members were at the Capitol testifying until after 5:30 am.

As we work to get a committee vote on solid Constitutional Carry language, it is critical that you contact your State Representative and State Senator right away.
Recent GOA News & Updates