January 2021 Newsletter

We're so glad you're a part of the GOA Texas family. But there are many Texans who haven't yet joined our community. 
Can you help us spread the word? 
Here is our January 2021 GOA Texas newsletter. It's one page of Texas gun rights news, with a bonus 2nd page of information on Texas G.O.L.D. 
Please print it and take to your local gun shop, gun range, political club, church group, or any other organization you're a part of. Encourage them to also join GOA! 
You can print the newsletter easily in either color or black-and-white.
If you prefer, here are JPG images of the newsletter that you can easily share on social media. Thank you for helping us grow our family!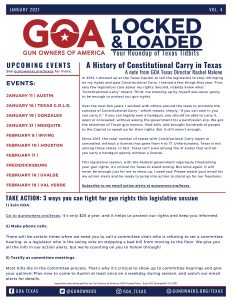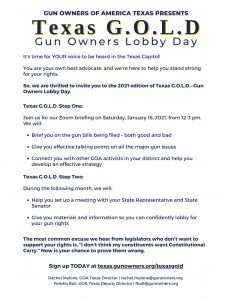 Recent GOA News & Updates